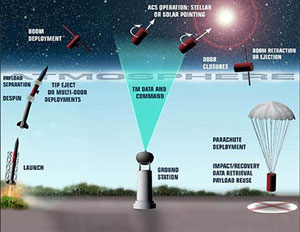 White Sands Missile Range in New Mexico July 11, 2012:

NASA's High Resolution Coronal Imager, or Hi-C, captured the highest-resolution images ever taken of the sun's corona in the extreme ultraviolet wavelength. Onboard, was also a
DayStar Filters
custom fabricated Hydrogen Alpha filter used for Hydrogen alpha comparison images and for pointing purposes.
DayStar provided support services of the project in cooperation with the Harvard Smithsonian Astrophysical Observatory. DayStar has produced several of such filters in the past, used on the Space Shuttle Challenger mission STS-51F as well as 9 previous suborbital Black Brant sounding rocket missions.