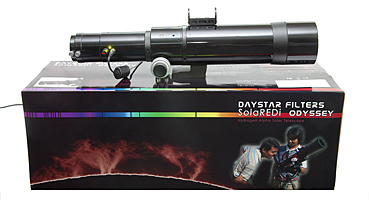 Specifications:
Clear Aperture: 60mm
Focal Length: 1375mm
Limiting Resolution: 2.8 Arcseconds

Operating Temperature: 20-90° F
Power supply: DC 12V, maximum 120mA, 2.1x5.5mm
AC Adapter included: 120-240VAC
Power consumption: 1.5 watts
Wavelength Shift range: 1Å
100% safe and fully blocked directly through the OTA
Reaches focus using the following:
1.25" eyepiece, 2" eyepiece, ToUCam, Lumenera, SBIG, SLR, DSLR*, afocal, CCTV Video, 2X - 5X Barlow lenses with any combination included above.
Includes:
Complete Hydrogen alpha Solar Telescope
2" dual speed Crayford style Focuser
Solar Finder
Dovetail / 1/4-20 threaded mounting foot.
12VDC Power supply with Inernational wall adapter plug
6 foot (1 meter) power extension cord
Performance engineered for flexibility, the SolaREDi has been rigorously tested for ease of operation, function, reliability and adaptability with various cameras.